Family Portal: Keeping home care clients connected to their own care
When it comes to home care, there is no bigger stakeholder than the client. Long considered just the recipients of care, the conversation has now fully shifted: each of us is the most critical member of our own care team. We should have the freedom to ask questions, take charge of our own health, be responsible and accountable for our own treatments, and determine what medical care we should receive. 
Increasingly, experts suggest that we must intentionally design the entire health-care system to achieve just this. Patients don't have the expertise to treat their illnesses, but they nonetheless should be in control of their own care plans.  
It's no surprise that the home care industry is embracing patient-centred care: researchers are studying it to see if it is a better way to deliver health care, and entire countries are mandating it (see the story of our client and leading care agency in Australia).  
With this in mind we turn to AlayaCare's Family Portal which was built to put home care clients in the driver's seat.   
Enter the Family Portal 

 

 
The Family Portal began as an organizational and educational tool for clients to stay on top of the care they are receiving. The information is similar to what home care field workers may find in AlayaCare's Care Worker Mobile App, which they can access prior to a client visit to quickly get up to speed with that person's care plan, preferences, condition, and home environment.  
When clients log on to their personalized Family Portal, they can: 
Access all their care plan details 

 

See information relative to the Home Healthcare agency and the profile of each care worker assigned to their case 

 

Give feedback on those care workers if desired

 

Monitor their home care schedule

 

Change that schedule at any time with requests that flow through to home care agency coordinators 

 

View personalized information about their visits (past and present) and corresponding services that make up their treatment plan

 

Better understanding of clinical forms, vitals, medications, and other clinical elements that a nurse or PSW may discuss

 

View their current invoice and invoice history

 

Apply roles and permissions to others who wish to have access to the Portal

 
Now, AlayaCare is aiming to enrich the Portal and ensure that it keeps meeting the needs of clients in agencies throughout the world.  
"As the rise of patient-focused care continues, we want to ensure clients are as engaged as possible in their care and use the Family Portal as that vehicle," says Tresa Staeven, AlayaCare Product Manager. "Our teams will be refreshing the portal, so it delivers a new and improved experience to clients and a more transparent view of their care plan."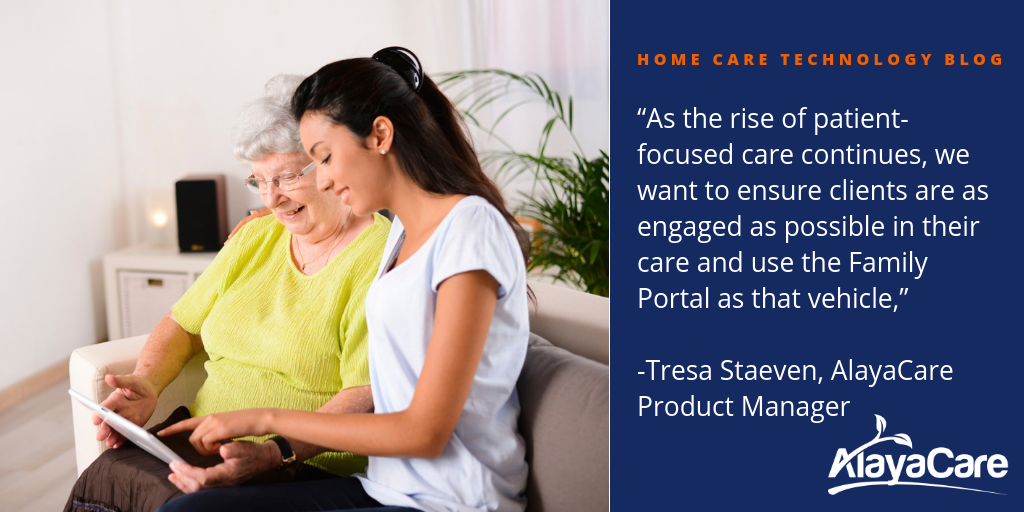 The power of engagement 

 
AlayaCare seeks to evolve its Family Portal to keep in step with a home care industry that is rapidly changing. The goal is to ensure clients can use the app to best prepare for the ins and outs of every visit, keep tabs on their schedule, and monitor their overall progress.  
In the same vein as soliciting input from the AlayaCare Customer Advisory Board, the team is heading straight to the source and asking clients what they think about the Portal.  
A new client consultant to AlayaCare, Danielle Kane, is a nursing student in Toronto who suffered a recent spinal cord injury. She said the Portal helps people keep the right perspective about their care.  
"For a lot of patients, having health issues, or needing assistance can result in a lost feeling of independence or that your life is out of your control," Danielle says. "But this puts the control back in your hands."  
Danielle says the real value of such technology is in truly engaging people in their own care, and in staying inspired to stick with the expert strategy to boost their health and quality of life.  
"The Portal leaves no room for wonder because if you have questions about the goals of care, or what your treatment path is, you log in and it's all right there to look at," she says. "I think it significantly reduces any doubts somebody might have about what they are supposed to be doing at home for themselves, or why.  
"When it comes to home care, patients often need to complete exercises, take medications, and follow a certain diet themselves. The responsibility is on them – and there has never been an effective, accurate way to track what they are doing for themselves."   
What's the future look like?

 
The product team at AlayaCare is devising how to make this as functional as possible and has plans to continue evolving the Family Portal, with more hands-on input from clients. 
In upcoming releases of the Family Portal, clients will not only be able to view their information but add and engage with it in new ways. Future releases will include integration into Telehealth apps to capture real-time vitals and daily health checks right within the Portal. An open chat window will also provide the chance to communicate with agency staff and solve questions at the moment. 
Advancements like this will put patients on the same visibility level as their caregivers – underscoring the fact that we are all part of one care team.  
"This is the way healthcare should be delivered in the future," Danielle says. "This should be the new standard of care: an open communication, a portal that allows all stakeholders to connect and be on the same page. It's absolutely invaluable." 
If you have any ideas on new features or better AlayaCare functionality, please let us know.  
Get the latest blog posts straight to your inbox