As a first-choice end-to-end home care software platform, AlayaCare not only provides innovative product lines to help improve outcomes but also pushes the boundaries to change the future of the industry. AlayaCare offers more key features and functionality to increase clinical and operational efficiencies and improve client outcomes.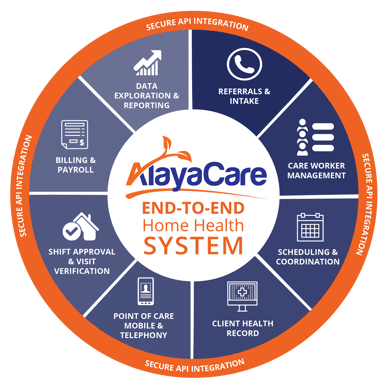 Available Modules​​
Back Office Suite

​

Clinical Suite

​

Care Worker Mobile App

​

Financial Suite

​

Virtual Care Suite

​

AlayaSphere

​

AlayaLabs

​
Services
Back Office Suite
Manage your client's care journey from beginning to end with fully integrated intake, scheduling, billing, payroll and reporting in a single, configurable solution. ​
Referrals and Intake: Access prompt service updates, referrals, and important patient records directly from the source. The AlayaCare software electronically intakes patient information and seamlessly maps patient data, service information, and risk codes to the corresponding functional areas of the software.
Scheduling: Leverage a scheduling system directly integrated into care plans with detailed visit ADLs, interventions and task management. Simplify shift management with the ability to build recurring or bulk shifts at once from multiple views, and schedule care in multiple settings with AlayaCare's group scheduling functionality. ​
Coordination: Coordinate care delivery that considers skill matching, utilization and proximity, pulling together the right team, at the right times, with the right billing model to improve the experience of each stakeholder.​​
Visit Verification: Mobile GPS clock-in feature and integrated telephony allow caregivers to provide proof of a visit in mere seconds, giving your agency greater transparency and accountability. Automated time and attendance reconciliation against the schedule gives you complete visit accuracy and increased compliance.
Private Pay Billing and Payroll: All-in-one private-pay billing and payroll solution with flexible multi-tiered billing management to support multiple rates and rules for private payers. AlayaCare's billing and payroll management solution enables invoicing, real-time billing processing, payment reconciliation, seamless payroll exports and more.
Employee Management: Powerful data capture and analytics to strengthen employee engagement. Manage skills and certifications, offer additional shifts through web or mobile, and track utilization and engagement metrics.​
Business Intelligence and Reporting: AlayaCare's embedded Business Intelligence (BI) tool provides a suite of pre-configured reports, analytics and customizable reporting for all departments and functions within your company. A single end-to-end software solution with integrated data exploration technology enables your home care organization to produce meaningful reports and consequently actionable insights​.
Clinical Suite
AlayaCare's Clinical Suite enables care providers to document clinical information in a secure, HIPAA-compliant environment. Both clinical and non-clinical data live in a single platform for interdisciplinary teams to extract relevant data to make insightful care plan tasks, interventions and goal setting,.
Care Plan: Ensure you're delivering better outcomes through interventions, goal tracking, and highly detailed client task records. Access a holistic view of a Client's health needs and facilitate care planning, scheduling, and clinical reporting within the web and mobile applications.
Forms and Assessments: Deploy with ease and minimize change management by configuring local, state or agency-specific forms and clinical documentation. With AlayaCare's easy-to-use form building tool you can effortlessly reproduce electronic versions of your paper or legacy forms.​
485: Leverage a fully integrated electronic 485 for care teams to access the draft or approved Plan of Care on both web and mobile and integrate Plan of Care tasks such as vitals, ADLs, MARs etc.
ADLs: AlayaCare's reconciliation process ensures ADLs are captured or commented upon at the point of care. Operate under management by exception rule that will drastically improve chart auditing, pre-billing verifications and achieve perfect compliance.
Vitals: Choose which vitals you wish to make available for a client and set minimum and maximum values as thresholds. Setup event tasks to be triggered when a value recorded reaches one of the designated thresholds. Care providers can review past recordings of clients' vitals as well as record new vital reading from the web or mobile app. ​​
Infusion: Add infusion sites and infusion maintenance to client care plans. Once an infusion site has been added, care providers can add new infusion maintenance for Infusion sites during client visits. ​​
Medication: Record and revisit client medications in AlayaCare's care documentation tab.  Care Workers can add administrations of the medications during client visits through the web or mobile app. 
Wound Care: Create wound profiles for clients who have wounds that require clinical monitoring and treatment. Care providers can then add treatments for wounds during a visit through the web or mobile app.
Equipment and Supplies: Create, edit, send, and view equipment and supplies requisitions on an individual client service level or for all clients within AlayaCare.​
Care Worker Mobile App
The AlayaCare mobile application allows caregivers in the field to access their schedule, respond to visit offers, clock in and out visits, and review and update clinical records for clients, all from a mobile device. The following AlayaCare features are available on the mobile app:​
Employee schedule

​

Clock-in/clock-out

​

Client overview: risks, attachments, care provider notes, medical history, 

document approval

​

Care plan 

​

Progress notes

​

Service tasks

​

Forms (reports)

​

Medications

​

Vitals

​

Wound care

​

Infusions

​

Facility visits

​

Tasks

​

Caseload

​

Offline Mode

​

Offers and referrals
The mobile app is available for both Android and iOS devices. Please note that there are slight differences in design and available functionality between the Android and iOS apps.​
WalkMe
AlayaCare fully integrated Digital Adoption Platform (WalkMe) enables your business to simplify the online experience and eliminate user confusion. Customized WalkMe's can be created that are company-specific (premium service) to ensure that workflows adhere to an organization's preferred business operations. 
Financial Suite​ (Premium Module)
Our electronic billing solution allows your agency to drive your bottom-line performance, get paid faster and remain client-focused. AlayaCare's integration with Waystar is deeper than any other home care software provider and, in fact, is the only software to date that has harmonized with Waystar on an individual visit-by-visit basis.
Virtual Care Suite (Premium Module)
Family Portal: As part of our commitment to providing home and community care providers with flexible, intuitive technology, AlayaCare has evolved its Family Portal to not only allow clients and authorized family members to view their health care information but to also be empowered and active members of their own care plans. ​

Virtual Visit: hold virtual rather than in-person visits with clients over video from the web or mobile application. Experience high-quality video connections in a single integrated solution so you can expand your telehealth and virtual visit offerings today. Utilize this feature to facilitate immediate coordination of video communications in real-time, in any situation. ​​

Remote Patient Monitoring: The AlayaCare remote patient monitoring (RPM) app walks the patient through a predefined monitoring plan, connecting via Bluetooth to medical monitoring devices that capture indications including all vital signs, the ability to answer health-related questions and provide feedback to caregivers, and the ability to video conference with care providers.